Regular price
$0.00 USD
Sale price
$19.00 USD
Unit price
per
Sale
Sold out
This is an adorable green deer pacifier.
Size: 6.5cm-5cm
If you want a matching teat then the green teat looks good.
Share
Whats so special?

Our pacifiers are nearly unique as they can be fitted with a selection to teats which are designed for the mouths of adults. Most of our pacifiers are able to be fitted with both latex and silicone teats. Both of our NUK teats are genuine NUK teats that are only available in limited markets.

Measurements

| | | | |
| --- | --- | --- | --- |
| | length | width | debth |
| NUK 5 | 40mm | 30mm | 20mm |
| NUK 4 | 32mm | 25mm | 16mm |
| Silicone | 43mm | 30mm | 18mm |
Shipping

Discreet packaging guaranteed

All packages are sent using unbranded packaging. Depending on the size of items ordered the packaging will be an envolope, heavy-duty postage bag, padded envolope or a sturdy cardboard box.

There are no markings on any side of the parcel except for your address, a return address, any postage markings and a customs label if required. The customs label will identify the items as "novelty items"

Stopping nosey people:  I understand that you may live with someone who will open your parcel, there are services where your parcel can be delivered to a locker. Currently I only offer this service in the UK but if you are wanting the service outside please contact me. 
To use this service select the Yodle postal service and in the delivery details enter the details of the store you want to collect from. To find your local store click here
Return policy

Pacifiers are only able to be returned if faulty or in the original packaging.

I understand that many of the items that I sell are things that many people have seen or are able to see without buying them, because of this I accept returns of items that are not put on bums or in mouths with the buyer paying for postage for the return.

For items that are put on bums or mouths I will request that the items will need to be in unopened packaging for a return.

If there is a fault (from manufacture) with the item bought and it has not been an unreasonable length of time then a return will be accepted for all items.
View full details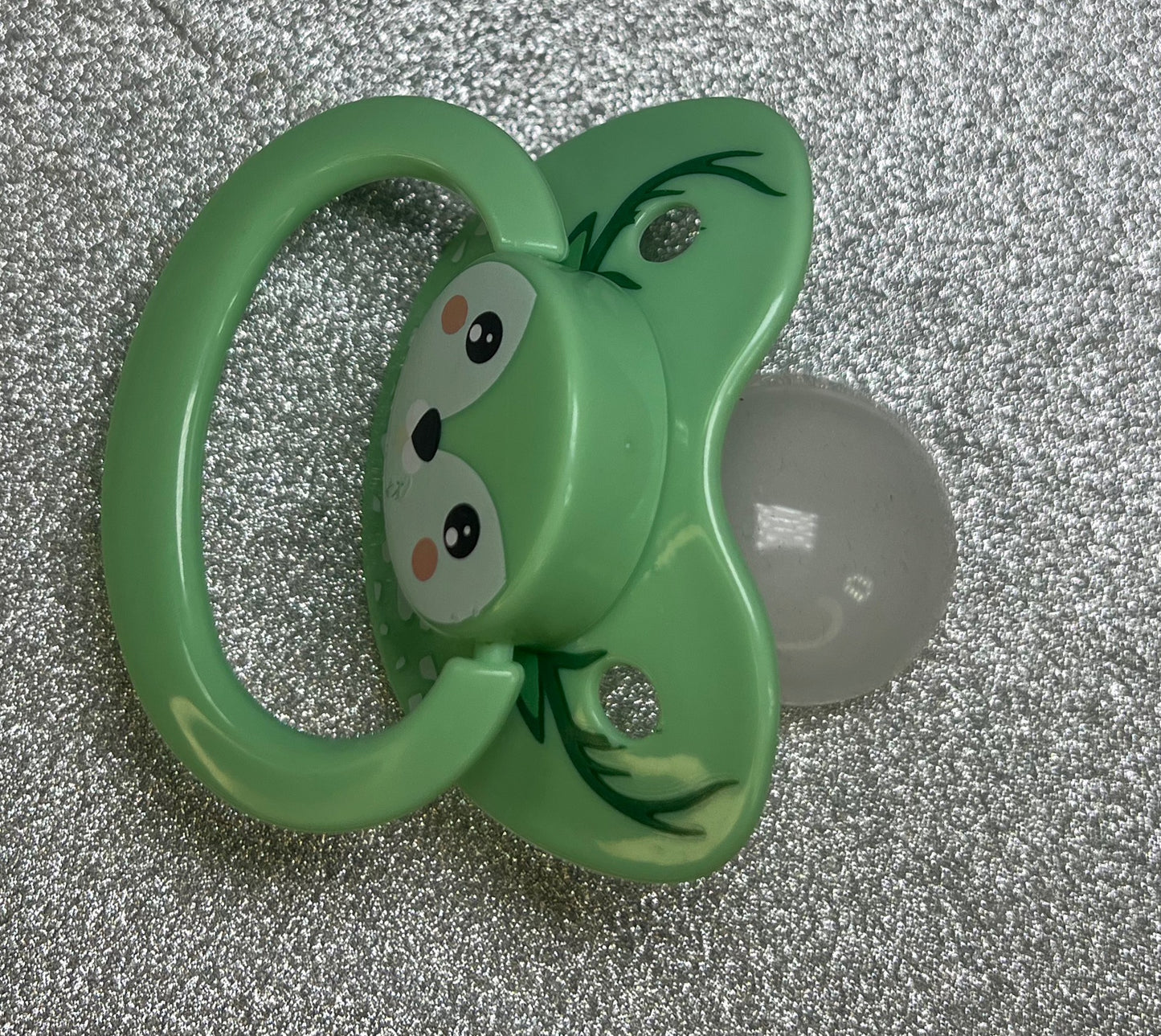 Pacifier Teats
With this pacifier you can choose the type of teat you wish to have with it. Unless otherwise stated in the item description the teat will deflate when pressed. All length measurements are only for the pacifier shield shown and others may differ but the same shield is used for all measurements for ease of comparison.
NUK5
These teats are designed and sized for an adult mouth and are the most popular option. They are made of latex and are soft across the whole teat. With age they will slowly become hard and brittle and should be replaced. As they are used there is a reaction with the saliva which will cause the teat to slowly swell, this is not normally noticeable apart from when you compare it to a fresh teat. These teats are manufactured by NUK.
This teat is not suitable for those with a latex allergy
NUK4
These teats are a smaller version of the NUK5 and are designed and sized for a "school age" mouth. These teats are manufactured by NUK.
This teat is not suitable for those with a latex allergy
Silicon
These are very similar to the NUK5 but made of silicon.
Silicon with solid edge
These are slightly different to any of the other teats as they have a section of solid silicon at each edge of the teat head. This gives the teat a bit more shape in the mouth when pressed by the tongue and give a bit more resistance for those that chew the head of the teat. These teats come in a variety of colours.